Thursday, September 24, 2020 by Gabrielle Martin
This fall is the perfect time for a fresh start. And what better occasion to commit to freshening up than partaking in some fantastic fall skincare?
The truth is, skincare is a commitment! Maintaining a consistent skincare regimen is essential in upkeep and must be done in addition to scheduling regular visits to see your esthetician, salon, or spa of choice. Simply stated, facials aren't a "one-and-done" type of treatment. For this reason, skincare is also an investment; however, it's important to remember that skincare is a valuable and important way of practicing-self care.
Face it: facials are, above all else, an investment in yourself! After all, skin is our largest organ. Plus, there's a long list of advantages associated with getting facials on a regular basis; in addition to preventing aging and promoting blood circulation, there are ample other health benefits including relaxation, restoration, and rejuvenation. And who doesn't need that?
I took to the town to find the best facials available to Hinghamites this fall, and ended up with so much excellent extra information, I had to expand my article to address September skincare!
HINGHAM MEDICAL AESTHETICS
at 38 North Street, (781) 556-5676
I had the absolute pleasure of sitting down with the staff at Hingham Medical Aesthetics this August at their new North Street location to talk about September skincare. I spoke with Allison Daly (RN, MSN, FNP), co-owner and operator of Hingham Med. Aesthetics alongside Lindsay Morningstar (RN, MSN, FNP); Brandi Baitchman, medical aesthetician specializing in HydraFacials and in-home care; Cherie Stack, spa director; and Jaime L. Foreman (LE, CLT, PT), medical aesthetician and body contouring specialist.
Suggestions For Those Just Starting Out: 
"For someone who's new to skincare, the best thing I can suggest is coming in for a complimentary consultation where we can talk about your skin goals, about what you want to fix, and what the best way to achieve it is," Allison Daly advises. 
"I often suggest starting minimally at home and working our way up to a Hydrafacial, or Virtue microneedling," Brandi Baitchman says.
Allison nods in agreement: "There's a wide array of treatment options offered here at Hingham Medical Aesthetics that suit not only our clients' needs, but also their budget! Everyone can find something they're comfortable with at the right price for them."
The Seasonal Skincare Select: VI-PEEL
The VI-Peel facial is a medical-grade chemical peel that's excellent for sun damage, making it the perfect treatment choice for September, after a summer full of sun exposure. The VI-Peel is available with a series of modifications and upgrades, including options for acne or acne scarring as well as dark spots, fine lines, and wrinkles.
"The number of peels we suggest scheduling depends on what you're trying to achieve," Allison says. "Usually, we space them out every four to six weeks; maintenance then becomes once or twice a year."
The staff all advise me to remind readers not to base the success of their VI-Peel off the amount of peeling that actually happens after the treatment: "Peeling more doesn't indicate better results; with the peel, results happen on cellular level," Allison explains. 
Brandi adds, "The treatment itself is totally painless, as is the peeling process, but it's really important not to pick your peel! You could actually damage your skin that way."
A HydraFacial is a medical-grade facial that provides clear, hydrated skin with no downtime and visible results immediately after. This is a great option if you're looking to resolve hyperpigmentation or clogged or congested pores; it's also beneficial for fine lines and wrinkles. It's considered a more effective alternative to microdermabrasion! This treatment is safe for all skin types, and available to ages as young as 13. 
Your esthetician at Hingham Medical Aesthetics will tailor the HydraFacial to best-suit your skin's needs: I got my facial from Brandi, who incorporated LED red light therapy.
If I had to describe my experience getting a HydraFacial with Hingham Medical Aesthetics in three words, they would be "cleansing," "relaxing," and "hydrating."
After this treatment my face was considerably plumper, my pores were noticeably smaller, and my skin was glowing. Two to three days out, I had some slight break-outs, which Brandi had warned me about in-advance: that's just the facial doing its job and bringing impurities that were already in your skin to the surface!
Brandi even checked-in on me to see how I was doing following my facial (within a week, my skin had cleared and I was amazed by the success of my results). Baitchman was an exceptional aesthetician and an integral part of my experience; she was considerate of what I wanted in terms of conversation and when I expressed interest, explained each step of the treatment in thorough detail.
Hingham Medical Aesthetics is one of 50 places in the United States certified in Virtue RF Microneedling.
"I believe it sets us apart. We invested in it because we believe in the company, but also because we believe in it's ability as a non-invasive skin tightening solution that requires little to no downtime," Allison shares. "We're combining our medical backgrounds with aesthetics knowledge, using a device we all believe in."
The Virtue is the world's first radio frequency microneedling platform that can be used on the face, neck, décolleté, or hands. The Virtue hand piece has 36 gold-tipped microneedles and is consumable for one-time use to maintain sanitation standards. The needles pierce a depth of 1 to 3.55 mm, based on the area of skin you're treating. 
The practice of microneedling entails inserting sterile microneedles deep into the dermis layers of the skin; in doing so, these incisions create microscopic channels deep within the dermis that stimulate the natural production of collagen, which assists in skin regeneration and turnover, allowing the body's natural reparative state to function fully. 
Virtue RF microneedling simultaneously delivers radio-frequency heat energy that promotes skin elasticity, improves brown spots as well as hyperpigmentation and scarring.  What's unique about this option, aside from its rarity, is that this insertion is so exact that it creates no tearing or trauma to the skin, unlike other microneedling pens or systems.  This treatment is designed to tighten and tone.
"For treatment, we typically do a series of three sessions to achieve the desired effect, separated by four weeks," Allison advises before adding, "This is an incredibly well-tolerated treatment. One of the many benefits is that there's little to no downtime."
This is something you can do on a 30-minute lunch break, or between business calls! "You can return to work right after. There's no numbing involved typically. This treatment is outrageously tolerable. I would say it's comparable to laser hair removal, in that we start mildly to see a patient's tolerance and go up accordingly in intensity as we proceed. That way, we can evaluate a patient's response and our course of treatment for follow-up appointments."
A PRP, or "Platelet-Rich Plasma," Facial is an innovative procedure designed to reduce the appearance of fine lines, acne scars, and discoloration; simultaneously, this treatment will improve skin's texture and tone, resulting in softer, healthier, younger-looking skin. When platelet-rich plasma is injected into the skin, stem cells multiply and grow new, younger tissue.
The platelets in a PRP Facial are drawn from your arm and transfused into sterile tubes that separate whole blood from plasma. These activated platelets are then injected directly into the target area. PRP treatments are also available in injections and as an option for hair restoration.
On combining your Virtue treatment with a PRP facial: "They're absolutely amazing together!" Cherie Stackman, spa director, says enthusiastically. "It's your body working naturally to repair its skin cells."
(If you don't incorporate a PRP Facial into your Virtue follow-up, Hingham Medical Aesthetics will follow-up your Virtue RF microneedling treatment with a complimentary, cooling ionizing mask.)
TRYST STUDIO
at 29 Main Street, (781) 740-2228
Step inside Tryst Studio and you'll discover a hidden oasis in the heart of historic Hingham. I visited the upscale skincare sanctuary to talk fall facials with owner and operator Kelly O'Keefe.
O'Keefe is an artist who began her career in aesthetics with cosmetics; she opened her own on-site bridal make-up business called Blush, which she managed and maintained for four years. During this time, Kelly says she saw a persistent and pervasive need to expand the scope of her services to offer a place to deal with "perfecting that canvas."
She shares how this business endeavor made her realize her love for "the process of aesthetics, the concept of self-care, and the nurturing aspect of [her] line of work." 
With Tryst, which she opened in the spring of 2012, O'Keefe expanded her scope of services to encompass brows, lashes, and skincare, including custom facials and sunless tanning.
"Skincare goes into self-care. With what we've all been dealing with," she says, alluding to the ongoing pandemic and the subsequent disruption of daily life, "it's so important to invest in yourself. It's a little thing you can do to normalize what we're going through."
This July, Kelly and the Tryst team celebrated the Studio's fifth year at their downtown location. O'Keefe has called the Town of Hingham home for the past two decades, residing here with her husband and their two sons, ages 12 and 15.
Suggestions For Those Just Starting Out: 
"First and foremost, I want to remove all that insecurity," Kelly tells me seriously. "There are no stupid questions here; I just want my clients to feel empowered. I want them to feel like they can ask anything!"
"Come in for a complimentary consultation to talk about your skincare woes," she suggests with a smile. "We can walk through your current regiment and modify it accordingly. If we start with implementing a three-step skincare routine with solid products–a cleanser, a serum that packs a punch, and a moisturizer–I mean, these are easy steps to take towards skin and self care."
"You want to get the right products, and we can help you with that!" O'Keefe emphasizes: "We can get them in your hands. At-home care is an important component just as much as in-studio appointments! A lot of skincare is about preventative measures. You probably wouldn't cut your own hair; you'd go to a stylist. You certainly wouldn't self-diagnose an illness or injury; you'd go to a doctor." 
This September, take your skincare troubles to Tryst! "We'll work with you to set something up in your comfort zone and price range, in accordance with what we're combatting, your treatment experience, how much downtime you're able to commit to." Kelly says encouragingly, before adding, "And, as for that mask-ne, leave it to the pros!"
Studio Specialty: Signature Facelift Facial
Kelly cites Tryst's Signature Facelift Facial as the studio's most popular skincare service. She describes it as a 4-layer Vitamin C facial "that will leave your skin glowing with no peeling or shedding."
Book yours now through September 12th and receive a complimentary microdermabrasion treatment ($75 value)!
We Tried It: Tryst Custom Facial
The Tryst Custom Facial includes exfoliation, extraction, a mask, and massage, with certain aspects customized and curated to fit your skin's needs. 
I received my Custom Facial from Maria Menconi, one of the newest members of the Tryst Team; I cannot recommend her enough! She was communicative, considerate, and knowledgeable, answering all of my many questions and making suggestions accordingly. 
My treatment included a cooling gel mask and lip treatment.
One week out, my skin looks and feels amazing; it's well-hydrated and plump. Any redness, acne scarring, and/or sun spots are noticeably reduced!
What To Expect With Your Appointment:
"It should be 60 minutes where you can regain some sense of self," Kelly muses. She later uses the word "re-centering," which I have to corroborate; I also would describe my experience as "restorative" and "relaxing."
My treatment at Tryst only reinforces my newfound discovery, which is that, often, an investment in skin care is an investment in self care and wellness. Tryst Studio's facials focus on relaxation because Kelly believes that's an important component of their treatment: another important aspect is comfort.
"We always want you to leave here feeling like you've left your best friend's apartment, you know? We want you to enjoy your stay; we want you to feel one hundred percent comfortable here. The Tryst team is composed of a group of women who are authentically down-to-earth. This isn't a place of putting others down, it's a place of rising up."
Then again, you're not going to want to get up after your facial! Kelly says that's what makes the mark of a successful treatment: "You're not going to want to get up." Good thing you can always book another appointment, usually four to six weeks out!
SAISONS HOLISTIC SKIN CARE SALON
at 98 South Street, (781) 749-2227
I arrive for my appointment at Saisons on a gray September morning and am immediately whisked away into a world of blissful relaxation. Aside from the chimes of the church bells from St. Paul's, I became otherwise entirely ignorant to the outside world. The interior of Saisons is effortlessly elegant, being both uncluttered and organized with a touch of chic–could be something to do with all of the Sothys products from Paris that line the spa's shelves where assortment of luxurious skincare creams, gels, and serums are on display.
I am instantly greeted with a smile and a comprehensive, three-page intake form discussing everything from my history of facials and treatments and my at-home skincare routine (AM and PM) to my dietary habits and sleep schedule (all of which are important components of skincare and overall health as well as appearance). I have to say that I very much appreciated this aspect of my appointment as it made me not only consider, but seriously confront, my habits. I felt this was another important step towards advancing my skincare routine: being more mindful of the many factors that contribute to aging, acne, and other impurities.
My Saisons experience was made complete with a treatment by owner and operator Stacey Tomasello herself. As I sat–or, rather, lay–on Tomasello's treatment table, we talked about all things Saisons and September skincare; I first asked her to walk me through the spa's history. Stacey shares that founder Lesia Setlin established Saisons Holistic Skin Care Solution in 1986; in 2001, Stacey joined Saisons and Setlin became her mentor.
As she begins to cleanse my skin with Sothys Raspberry and Blackcurrant micellar gel, Tomasello reflects on her relationship with the spa's founder: "Leisa began to teach me everything she knew, not only about skincare, but about how people should be treated: she always said that a customer should feel as though they are the only one in the world at that moment, when they're on your table, having a treatment."
She went on to say that, sadly, Setlin passed away in 2010 after battling cancer; Stacey then made it her mission to preserve the incredible atmosphere Leisa has started at Saisons. And, though we were but ten minutes into my appointment, I felt this element of customer care incredibly present, even without Stacey saying so; this was only reinforced throughout my time with Stacey at the spa. To preserve the customer experience component, Tomasello says she trains Saisons' estheticians herself.
Stacey then tells me that she relocated Saisons a year ago–though she didn't go far: the spa moved three buildings down on the same street. "Why move when you can't beat the location? And you can't beat being downtown," she says; however, she acknowledges that the relocation to 98 South Street still was an incredibly important development for her business.
Comprehensive Skin Care Solutions at Saisons:
Saisons offers skin care services as well as home care in the form of retail skincare shopping (they carry the brands Sothys and SkinCeuticals, which curbside pick-up is available for, as well as high-quality make-up), makeup application, and waxing.
We Tried It: Sothys Seasonal Select, Blackcurrant and Raspberry
I received a Sothys Seasonal Facial Treatment; Stacey shares that this is one of her favorite of Saisons' many services because it comprehensively and consistently refreshes and rejuvenates the skin. The active ingredients incorporated in this service change every six months in an effort to offer ingredients that accompany the current season's harvest.
Blackcurrant and Raspberry is the current seasonal select; previous seasonal key notes include Mint and Melon, Pear and Grape, Watermelon Lime, and Pineapple Mango. Each Sothys seasonal facial treatment is unique and limited edition, though they all provide products packed with antioxidants to help restore skin ravaged by the seasons.
The course of this treatment is composed of cleansing, exfoliation, extractions, and finished with a rubberizing mask. The rubberizing mask was my favorite aspect of the treatment; not only was it relaxing and restorative–my experience involved downtime while classical piano music played softly from a speaker as outside, rain started to fall–but this also is an incredibly effective way of driving active ingredients into the skin!
I left Saisons, returning into the hustle and bustle of downtown on a Tuesday with considerable cleaner, clearer, and brighter skin. In the days to follow my facial, despite going make-up free to give my skin a break, I received several compliments featuring the descriptives "dewy" and "glowy"; I was absolutely over-the-moon.
The Saisons Team followed-up my facial with several at-home recommendations, including suggesting we schedule a follow-up ("if I may be so bold, I'd like to see you again around October"), and later called to check-in on me post-treatment.
Most Popular Pick: Saisons' Non-Surgical Facelift
As Stacey administered the Sothys Seasonal treatment, I asked her about Saisons' other especially noteworthy services; she quickly identified the Non-Surgical Facelift as her "most popular pick." 
This form of facelift is non-invasive and uses microcurrents to lift, tone, and tighten the face and body.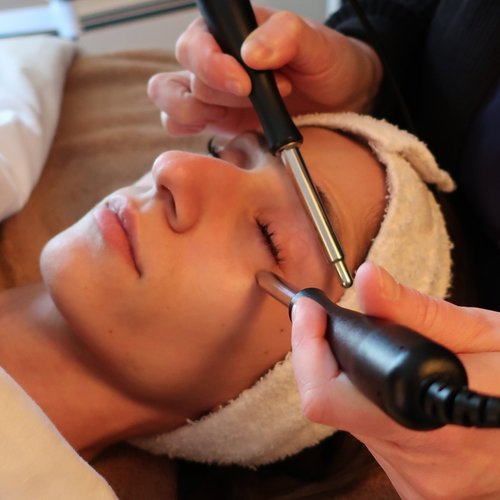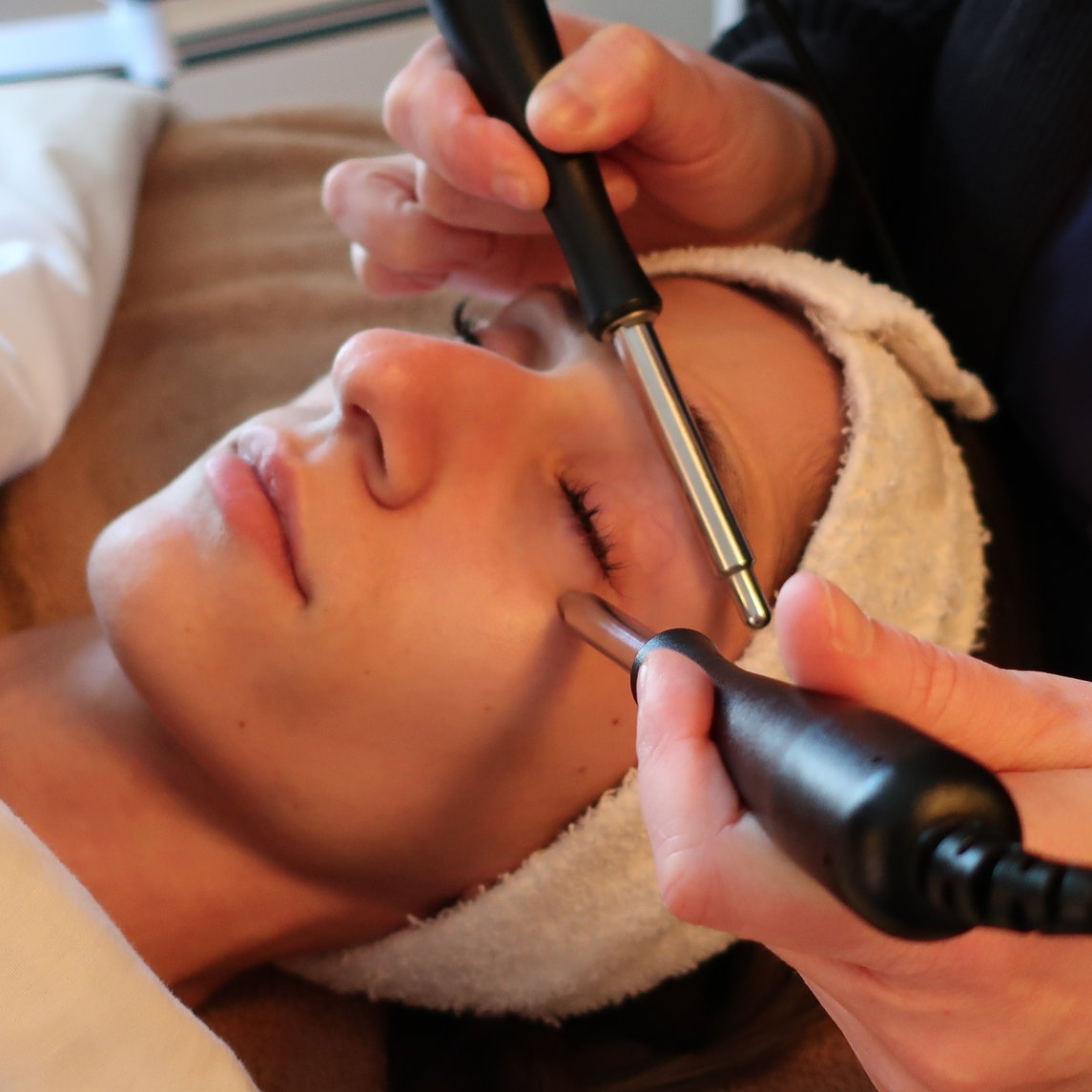 Ever-curious, I ask for before-and-after photos, which Stacey says she doesn't do: what she does is half of the face first, to directly compare the results in real-time. "People are always amazed," she says proudly.
This fall, Saisons is offering a $94 introductory non-surgical facelift; of course, it's important to acknowledge that lasting results require more routine sessions, but this is a great opportunity to try out this treatment and explore if it's the right option for you.
Holistic Skin Care At-Home:
A large component of Saisons Skin Care Solution is selling take-home products to compliment the spa's services; in doing so, the aestheticians here can advise what items to incorporate into clients and customers at-home skincare routines, thus making the treatments more effective with accurate aftercare.
To compliment my Sothys Seasonal Facial, I purchased their limited edition Framboise and Cassis (Raspberry and Blackberry) Micellar Cleansing Gel. This product is formulated with micelles that attach to impurities on the skin (such as make-up) to remove them in one smooth step. My favorite thing about this gel is non-greasy and lightweight. An added bonus is that it smells absolutely amazing! This, too, is part of the Saisons experience: your Saisons team member will work with you to treat your skin at the spa and get the right products to take to your own home. It's all about upkeep.
SKIN THERAPY
at 13 Leavitt Street, (781) 789-5516
I met with Danielle Palmer of As Good As It Gets at her new salon's location of 13 Leavitt Street, at the edge of Hingham Center, on an overcast September afternoon.
Palmer quickly tells me she lived in the Crow Point area for the past fifteen years. "I'm in love with this little town," she shares with a smile as she shows me around her new studio space. Danielle recently partnered with medical aesthetician Greta Hall, of Greta Hall Skincare, to open Skin Therapy. 
The interior of Skin Therapy is airy and bright, decorated with antiques, dark wood, lace-cut curtains, and thick oriental throw rugs cast over cool hardwood floors. Danielle and I sit together in the reception room, the space cast in a cool natural light from the gray skies overhead: we chat like old friends, discussing Danielle's new business endeavor, her salon's selections of fall facials, and all things aesthetics.
For The First-Timers: A European Facial
"A European Facial is specifically customized to the client's individual issues; it can be cleansing, firming, or hydrating, depending on their wants and needs. Not only is this option extremely customizable, but it's very affordable. You'll see results, receive a relaxing massage, and have the opportunity for further education; then we'll go from there!" Danielle explains enthusiastically.
A European Facial at Skin Therapy will cost you roughly $100. Palmer suggests scheduling one, at minimum, "every quarter," or once every four months: "But, if you're really looking to get serious about caring for your skin, I'd book for once a month. It all depends on your budget and, of course, the severity of your situation and doing what's best for your skin."
Danielle describes the process of administering facials from her perspective: "I cleanse, tone, and exfoliate. Throughout, I'm doing a continuous consult: that entails discussing concerns, steam, extractions, and massage, spanning from the head down to the face and neck and incorporating the shoulders and arms. It's super relaxing! I offer an amethyst BioMat of crystals all crushed up; heat goes through and it releases negative ions, which provide healing energy. You'll leave with clean pores and fresh skin, and maybe even a little lesson. I like to find out where people are at and nudge them in the right direction." 
Palmer says she loves helping people and thus often tries to incorporate tips, tricks, and tidbits of advice into the facials she administers at Skin Therapy so, "Bring your questions!"
Back-to-School Burnout? Combat With A Sothys Energy Facial
"After a summer full of sunshine, everybody's skin is dehydrated and desperate for some TLC, so I'd suggest scheduling a hydrating-focused European Facial this fall. Or, if you really want to go for the gusto and get revitalized, I'd suggest the new Sothys energizing facial," Danielle advises.
I have to agree with her second suggestion: opt out of impurities with the new Detox Energie treatment. Lasting an hour and 15 minutes, this facial treats your skin to a burst of energy while simultaneously assisting its efforts to defend itself against environmental stress. The trio of exclusive active ingredients in this Sothys intensive treatment are organic elderberry extract, Siberian ginseng root, and anti-pollution peptides, providing protection, detoxification, and rejuvenating restoration.
Aftercare and Advice:
"I always send clients out the door with 'homework,'" Palmer jokes. "I also often say, 'Put your money into serums.' You should invest in a good moisturizer, too: you definitely don't want dry patches. I also really recommend CBD skincare." 
She sent me home with a sample of HempWorx Renew Moisturizer to try and see for myself: when purchased full-sized, this cream is infused with 80mg of CBD. It also contains apple stem cells, which are dubbed as the "Fountain of Youth," known for their tremendous anti-aging benefits. This cream can be used daily, morning and night. I used mine for three days, and by the end of my trial, I noticed reduced redness and overall a more even, restored complexion.
When asked for her skincare do's and don'ts, Danielle laments: "Do wear moisturizer! It's a barrier between you and the world." She pauses to think before saying sternly, "Don't ever use alcohol on your face. Ever! Here's why: it's incredibly stripping." 
She says to beware of alcohol as an active ingredient especially in toners and acne products; if you notice yours happens to have alcohol but you're still combatting spots, Danielle recommends replacing this aspect of your routine with a benzoyl peroxide product or witch hazel pads. 
"I honestly advise everybody who plays sports to pack witch hazel pads in their sports bag; it's a super easy way to combat sweat-induced acne or impurities. I often add a few drops of essential oil to mine," she shares.
So, What's The Mark of a Good Facial? "No Marks!"
Danielle says decidedly, "After a good facial, your skin should feel renewed and refreshed, like it's breathing better."
In Conclusion
DIY skin care is, of course, important, but remember that expert care and consultation are often required to enable at-home efforts to achieve next-level results; specialists at salons and medspas are well-equipped to assist us in achieving our desired outcomes!
Routine facials and treatments are just one form of commitment to self-care and self-improvement, and what better time to start than the fall? As we get back into the swing of things after a stand-still summer, let's begin to incorporate facials into our regular routines!
Thank you to all of the specialists who were consulted for our fall facial feature.
This story took several weeks to complete to properly space out treatments and trials of products to accurately reflect results.